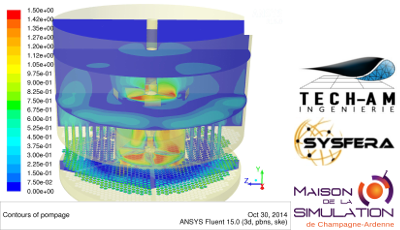 Dans le cadre de la conférence SuperComputing2014 et du salon industriel qui est associé, ROMEO a présenté sa nouvelle offre de CFD à la demande, développée avec Sysfera-DS et expérimentée dans des conditions extrèmes par TECH-AM ING au cours du mois d'octobre 2014.
Permettre aux PME, de la région Champagne-Ardenne et d'ailleurs, d'accéder aux extraordinaires ressources de calcul du mésocentre ROMEO, tel est le défi que se sont fixés ROMEO et Sysfera, l'éditeur du portail logiciel d'accès aux supercalculateurs.
C'est TECH-AM Ingéniérie qui a pu expérimenter la solution en avant-première en lançant des calcul dimenionnants depuis un simple navigateur. De plus, le modèle calculé mettait la région à l'honneur car il s'agissant d'un modèle innovant de cuve de cristallisation, matériels largement utilisés dans les entreprises sucrières de la région.
http://www.scientific-computing.com/news/news_story.php?news_id=2587
This year SysFera will showcase a new CFD-AAS (CFD-as-a-service) solution that makes use of the Romeo supercomputer, the most energy efficient supercomputer in France.
The solution is now available for small and medium-sized industrial users on ROMEO's supercomputer with a 'bring your own' license model.
The company is also offering SysFera-DS high performance computing management software that is available through a conventional web browser. The use of a web-based portal makes it easier to access data remotely and includes functionality to allow visualisation of 3D applications.
David Loureiro, CEO of SysFera, commented: 'Delivering easily accessible and efficient HPC CFD simulations as a service to the desktop for an industrial customer was a challenge that we tackled with SysFera-DS – in collaboration with Romeo and Tech-Am Ing. Easy and efficient access to simulation tools is crucial for industries; Tech-Am Ing's work reduced the duration and cost of the whole process of producing sugar. Our goal is to take this same level of resources and HPC access to all small- and medium-sized organisations.'
Tech-Am Ing, a company specialising in numerical simulation and complex CFD, has worked with the Romeo cluster since 2011, solving real challenges in the process industry, where CFD simulations involve complex interactions. CFD simulation performed with HPC is a powerful tool for mixing system providers and is key to future innovation.